15 April 2017
---> AND THE LONG AWAITED ALBUM HAS JUST BEEN RELEASED - FINALLY!<---
VIPCANCRO | U N O
Recording between 2015 and 2016 in Venice during the 56th Biennale of International Art and in Pietrasanta at Molize Studio.
Mastered by Riccardo Mazza.
[10 Euro]
Ready to ship.
2 September 2016
SUONO PROSSIMO II
rassegna di arti sonore
a cura di Lisca Records e Nub Project Space
La rassegna di arti sonore "Suono Prossimo 2016", alla sua seconda edizione, si terrà a Pietrasanta (Lucca) in data 2, 17 settembre e 1 ottobre 2016 negli spazi del Chiostro di S. Agostino alle ore 21.30.
Nata dalla collaborazione tra l'etichetta Lisca Records e l'associazione culturale Nub Project Space, Suono Prossimo si pone il fine di portare in Versilia alcuni dei fenomeni più attuali e interessanti della ricerca sonora nazionale, in particolare esponenti di quella scena sotterranea che indaga e si esprime all'insegna di una sperimentazione originale. A presentare l'evento, l'autorevole voce di Diaforia.
programma:
//////////////////////////////////////////////////////////////
venerdì 2 settembre 

Chiostro di Sant'Agostino-Sala dell'Annunziata
ore 21.30
LETTERA 22

LIEUTENANT MURNAU
//////////////////////////////////////////////////////////////
sabato 17 settembre
Chiostro di Sant'Agostino-Sala dell'Annunziata
ore 21.30
C.ALTIERI/G.FAVARON
METZENGERSTEIN
//////////////////////////////////////////////////////////////
sabato 1 ottobre
Chiostro di Sant'Agostino-Sala dell'Annunziata
ore 21.30

ALESSANDRA ERAMO
GELBA

//////////////////////////////////////////////////////////////
info:
nubprojectspace.com
www.liscarecords.com
Centro Culturale Luigi Russo – www.museodeibozzetti.it – 0584795500

luoghi:

Chiostro di Sant'Agostino (Sala dell'Annunziata) – Via Sant' Agostino 1, Pietrasanta
13 May 2016
CAVE FESTIVAL MASSA
This Quite Army (CANADA)
Thank you For Smoking
Daimon
VipCancro
Corrado Borghini
La ConceptHouse

start 21.30 at PEPPER 78
viale Stazione 78, Massa
22 April 2016
SUONO PROSSIMO 2016
rassegna di arti sonore
22 Aprile 2016 | Presentazione | Live Set
D.Ciampalini - E.Ricci - D.Lucchesi
Seconda edizione del progetto promosso da Lisca Records in collaborazione con Diaforia, Nub Project Space e LABottega che si terrà a Pietrasanta nei giorni 2 e 17 Settembre e 1 Ottobre 2016 e sarà presentato da un evento anticipatorio che si terrà negli spazi de LABottega - Viale Apua 188 Marina di Pietrasanta Venerdì 22 Aprile 2016, ore 19:00.
Devid Ciampalini (1988): voce, vocoder, percussioni, elettronica.
Musicista/sperimentatore e fondatore del collettivo artistico Ambient-Noise Session, nasce come bassista nel 2007 suonando in varie formazioni di rock psichedelico. Al momento impegnato nel suo progetto Metzengerstein, suona anche con musicisti della scena di improvvisazione come Ezio Piermattei, David Vanzan, Virginia Genta, Eugenio Sanna, Edoardo Ricci, Adam Bohman, IOIOI, ecc.
Lavora con microfoni a contatto destrutturando le pulsazioni in rumori cinetici e interagendo con il proprio corpo. Il suo è un percorso fisico che scava nella trasformazione dell' espressività, attraverso field recordings di voci e suoni gutturali modificati in real time. La sua è una ricerca ecclettica fatta di noise, elettronica e free music.
David Lucchesi: chitarra elettrica,chitarra acustica
Ha iniziato a suonare con un quartetto con il nome di Mario e the Kadath,successivamente ha suonato con Metzengerstein e Holy Hole, attualmente sperimenta sulla chitarra alla ricerca di un suono personale tramite l'improvvisazione che gli consente di esplorare suoni e di avvicinarsi alla radice di essi. Ha partecipato a diversi workshop tenuti da Eugenio Sanna con il nome 'Il Suono dell'Improvvisazione' Ha suonato con Ester Lamneck, Adam Bohman, Eugenio Sanna, Stefano Bartolini, Edoardo Ricci, Marco Baldini dove con questi ultimi due porta avanti un quartetto di improvvisazione.
Edoardo Ricci: Sax alto, soprano, sopranino,clarinetto basso.
Ha iniziato a suonare nel 1974 fondando insieme ad altri il Neem (Nuove Eresie Eretico Musicali). Incidendo poco dopo il disco "Come eravamo brutti da piccini". Nel 1976 suona nel quartetto di guido Mazzon incidendo due dischi. Suona nell'orchestra di Gaetano Liguori incidendo un disco. Nel 1980 con Stefano Bartolini, Filippo Monico e Guido Bresaola compone la parte musicale del gruppo di musica e danza "Tutti i nodi vengono al pettine". Forma un gruppo con Tristan Honsinger, Sean Bergin, Stefano Bartolini, Renato Cordovani, Nicola Vernuccio e Filippo Monico suonando al festival jazz di Palmi, al Grey Cat di Grosseto ed al Recitarcantando di Cremona . Nel 1985 Fa parte del Gruppo Contemporaneo (con Guido Mazzon, Filippo Monico, Stefano Bartolini Massimo Falascone, Angelo Contini e Roberto Del Piano) incidendo il disco "Aspettando i Dinosauri".
Con la compagnia di danza di Susanna Beltrami partecipa all'allestimento musicale dell' operetta musicale Dressoir di Misha Mengelberg, suonando le musiche dal vivo. Insieme a Filippo Monico ed Eugenio Sanna da vita al gruppo Padouk incidendo il disco "Padouk" per la Splasch record. Nel 1992 partecipa con padouk al festival di controndicazioni organizzato da Mario Schiano. Con Padouk, diventato quintetto con l'ingresso di stefano Bartolini ai saxes e Roberto Del Piano al basso elettrico suona al festival di Noci curato da Vittorino Curci. Nel 1993 comincia la profiqua collaborazione con il Jealousy Party gruppo che comprende Roberta Andreucci, prima alle percussioni e poi stabilmente all'elettronica e Mat Pogo alla voce e all'elettronica incidendo vari lp e cd nel corso di quasi sedici anni di attività: per la Phonometak uno split 10" con i Talibam! che fa parte di una serie numerata, Now, Again, Live e Mercato Centrale editi dalla burp publications, Relative memory per la Absinth con in aggiunta al trio Nicolas Wiese e per ultimo "All Yours" Piccolo manifesto sonoro di mesi e mesi di concerti e studi. In duo con Sanna incide i cd "Lo scorfano miracolato" Del 1995, "Le sette premonizioni ortofrutticole" Nel 98 registra un disco con Roy Paci, Jacopo Andreini e Massimo Cipriani intitolato "CRAP". Sempre nel 1998 in trio con Eugenio Sanna ed il batterista Roger Turner registra un disco dal vivo " I segnali della ritirata". Nel 2000 rimette in piedi con Roberto Bellatalla e filippo Monico il Muzic Circo, incidendo il disco "Vent'anni dopo" per Setola di Maiale collana curata da Stefano Giust. Suona a controindicazioni.
Nel 2001 fa parte dell'organico di "Mondo Ra" orchestra celebrativa che esegue le musiche di Sun Ra, suona all'auditorium della Rai la serata di apertura del festival di controindicazioni. Nel 2002 suona con "mondo Ra" Ad Orsara di Puglia. Nel 2006 partecipa con Eugenio Sanna al festival "Inaudible" a Bruxelles. Nel 2006 suona al festival instabile a Pisa sempre con Sanna e Turner registrando il disco " Live a Pisa". Nel 2010 fa parte del collettivo Blutwurst.
8 October 2015
AUGMENTED FRAGILITY
Solo Show by Gabriele Dini
Opening at 18:00
Teke' Gallery, Carrara 8 Ottobre
Live Electroacustic Performance at 21:00 by VIPCANCRO
4 July 2015
SATYR // MAT CHIVERS + VIPCANCRO
VipCancro will perfom during the 56th Venice Art Biennale on the occasion of 'Satyr' - an exhibition by Mat Chivers.
4th July 2015 - 07:30 PM VeniceArtFactory project
Space Veniceinabottle
Via Garibaldi 1794, Castello
Satyr, 2014.
HD digital film, 7 minutes duration.
"Getting my first real taste of living and working for an extensive period of time in Italy I have attempted to immerse myself as much as possible in this fascinating new context. Through my research and experience of the place, an awareness of the extraordinary conjunction of human culture and the natural environment that typifies the landscape has captured my imagination. I have become particularly fascinated by the tradition of elaborate formal gardens, with the inherent sense of rationality and order (imbued with sensuality and grandeur) achieved through the use of geometry and the application of proportion. I am interested in how this historical layering exists in counterpoint to the increasing presence of the digital world - particularly in terms of how digital processes and robotic manufacturing methods are threatening the livelihoods of the artisans that have worked in the marble quarries of the Alpi Apuane for centuries. In this collaborative work the Italian noise band VipCancro (Andrea Borghi, Alberto Picchi, Nicola Quiriconi and Filippo Ciavoli) were invited to improvise a live sound piece and performance artists Alessandra Podesti and Anonymous were invited to improvise movement material in response to the sculptural installation Satyri and the Human Nature bronzes. A film was made on the summer solstice of the ensuing improvisations in rural and industrial locations in the vicinity of Colonnata, in the heartland of marble quarrying near Carrara. The film is framed within a Venn diagram-like perimeter mask known as the Vesica Piscis which is derived from two circles overlapping so that the circumference of each touches the centre point of the other. The two nodes at the centre of each circle are retained as opaque black points. The work is based around a symmetrical structure composed of seven interrelated sections and expands on the notions of the conjunction of opposites as explored in Satyri and Human Nature and the understanding that there is no such thing as duality."
27 June 2015
RUMAGNA SDOZA // ven26 - sab27 Giugno

VENERDI 26 GIUGNO
Maria Moles / Adam Halliwell (Melbourne)
Radio Maria (Savignano sul Rubicone)
Krajchek (San Giovanni in Marignano)
Videobasic (Chiesuola)
Simone D Annunzio (Vasto)
Val del Omàr (Brisighella)
SABATO 27 GIUGNO
VipCancro / Simon Balestrazzi (Marina di Pietrasanta / Cagliari)
Superfreak (Bari)
Marino Jose Malagnino (Brindisi)
Instruments Vivant (Ravenna)
Rainbow Island (Roma)
Dirtmor (Treviso)
Davide Tidoni (Brescia)
3 June 2015
In case you lost this little gem we'd like to introduce it with a small delay.
VIPCANCRO & SIMON BALESTRAZZI - C60-one-sided - Lonktaar Records
"Astonishing and bleak collaboration between this alien-noise entity from Tuscany, and Simon Balestrazzi. Experimental music sessions using ambient sounds, field recordings, and obscure post-industrial vibes...
Featuring members of the glorious T.A.C., and of the great italian label Lisca Records.
Strictly limited to 43 copies on recycled cassettes, color cover and insert.
7 March 2015
SUONO PROSSIMO | rassegna di arti sonore
a cura di Lisca Records e Nub Project Space
La rassegna di arti sonore "Suono Prossimo 2015", alla sua prima edizione, si terrà a Pietrasanta (Lucca) in data 7, 21 febbraio e 7 marzo 2015 negli spazi del Chiostro di S. Agostino alle ore 21.30, e a seguire presso Lo Studio (RistoranteBar), alle ore 23.30, dando vita così a due momenti performativi distinti.
Nata dalla collaborazione tra l'etichetta Lisca Records e l'associazione culturale Nub Project Space, Suono Prossimo si pone il fine di portare in Versilia alcuni dei fenomeni più attuali e interessanti della ricerca sonora nazionale, in particolare esponenti di quella scena sotterranea che indaga e si esprime all'insegna di una sperimentazione originale. A presentare l'evento, l'autorevole voce di Vittore Baroni e Diaforia.
programma:
__________________________________
sabato 7 febbraio

Chiostro di Sant'Agostino-Sala dell'Annunziata
ore 21.30
VIPCANCRO
ENRICO MALATESTA & LUCIANO MAGGIORE

Lo Studio
ore 23.30
M. BALDINI / D. CI / D. LUCCHESI / E. RICCI
__________________________________
sabato 21 febbraio
Chiostro di Sant'Agostino-Sala dell'Annunziata
ore 21.30
GIOVANNI LAMI

SIMON BALESTRAZZI

Lo Studio
ore 23.30
UMANZUKI
__________________________________
sabato 7 marzo
Chiostro di Sant'Agostino-Sala dell'Annunziata
ore 21.30

GIANLUCA BECUZZI

ANDREA BORGHI

MICHELE SPANGHERO

Lo Studio
ore 23.30
STAR PILLOW
__________________________________
info:
nubprojectspace.com
www.liscarecords.com
Centro Culturale Luigi Russo – www.museodeibozzetti.it – 0584795500

luoghi:

Chiostro di Sant'Agostino (Sala dell'Annunziata) – Via Sant' Agostino 1, Pietrasanta
Lo Studio – Piazza Matteotti 39, Pietrasanta
5 December 2014
Exciting review of VipCancro's WAXWORKS by Antonio Ciarletta on last BlowUp Magazine. Delighted of those words, thank you!
"Sono diversi anni che i VipCancro ci deliziano con i loro lavori a tiratura limitatissima, non raccogliendo ancora quanto meritato. Sonorizzazione di "Waxworks" di Paul Leni, il disco in questione presenta sei composizioni scure e isolazioniste come l'inferno. Ma non è dark ambient questa, né semplice soundtrack music o sperimentazione elettroacustica tout court; è qualcosa di più profondo e alieno, qualcosa che trasforma i pensieri in un'estensione del paesaggio sonoro. Come se i Demdike Stare rifacessero "Pepe Satan" di Fabor con la benedizione di Kevin Drumm. Inquietante e bellissimo."
27 July 2014
Two releases out for a few days.
VIPCANCRO - Waxworks CD
Handmade Waxed Envelope Edition.
Strictly limited to 60 copies!

Su invito dell'associazione culturale BAU, i VipCancro (in formazione inedita e ampliata per l'occasione) hanno realizzato per la Galleria d'Arte Moderna e Contemporanea "Lorenzo Viani" di Viareggio una sonorizzazione originale del Waxworks di Leni, in omaggio a Viani quale massimo e originale esponente dell'espressionismo pittorico in Italia. La sonorizzazione ha avuto luogo alla GAMC il 29 settembre 2012, nell'ambito dell'iniziativa europea La Notte dei Musei, ed è stata poi riproposta dal vivo in altre occasioni. Il cd Waxworks, inserito in origine nel numero Dieci della pubblicazione d'artista BAU Contenitore di Cultura Contemporanea (www.bauprogetto.net) ed ora disponibile separatamente in originale tiratura limitata sigillata a cera, non rappresenta però una semplice documentazione sonora dell'evento. Si tratta piuttosto di un vero e proprio album ispirato a personaggi e situazioni del film, all'operazione stessa di sonorizzazione ed alle idee scaturite per affrontarla, incluse le registrazioni di studio effettuate dal gruppo in preparazione delle performance. Il quartetto di
sperimentazione elettroacustica toscano, affiancato come nell'evento live da Lorenzo Galli e David Paolinetti, pur mantenendo ben riconoscibile la propria cifra stilistica ha saputo trovare in questo caso l'ideale punto di fusione tra gli intensi continuum della propria drone music e le stilizzate atmosfere del film, portando alla luce più di una affinità elettiva tra i chiaroscuri del cinema germanico espressionista e le peculiari qualità della tradizione noise-ambient-industrial. La cera, del resto, è una sostanza che
l'orecchio umano è in grado autonomamente di secernere, legata quindi anche fisiologicamente alla dimensione del suono. Waxworks riporta in vita, novant'anni dopo l'uscita della pellicola di Paul Leni, autore non ancora adeguatamente riscoperto e rivalutato, il "doppio" di Ivan il Terribile o Jack The Ripper che già alloggia nelle nostre paure. Si consiglia l'ascolto visionando la pellicola originale
(http://www.youtube.com/watch?v=3nksb9EBZKI).

"On invitation from the Cultural Association BAU, VipCancro (Andrea Borghi, Alberto Picchi, Nicola Quiriconi e Filippo Ciavoli Cortelli) provided, for the Modern and Contemporary Art Museum "Lorenzo Viani" in Viareggio, an original impro-live soundtrack on Leni's Waxworks, as a tribute to Viani, the most original exponent of expressionist painting in Italy.The performance took place at GAMC o th 29th of September 2012, during the European Night of Museums, and was then proposed again also in other occasions. The CD Waxworks, originally inserted in "10", tenth BAU Container of Contemporary Culture (www.bauprogetto.net), now available separately in limited wax sealed edition, is not, however, a simple documentation of the event, but a real album inspired by characters and situations in the film and by ideas generated dealing with the entire operation, including studio recordings made by the group in preparation for the performance. The quartet of Tuscan electroacoustic experimentation, joined in this occasion by Lorenzo Galli and David Paolinetti, while maintaining their own recognizable dress code, has been able to find the ideal point of fusion between the intense continuum of its drone music and the stylized atmosphere of the film, bringing to light more than one elective affinity between German expressionist cinema's chiaroscuro and the peculiar quality of noise-ambient-industrial tradition.The wax, moreover, is a substance that the human ear is able to secrete autonomously, therefore linked also physiologically to sound. Waxworks brings back to life, ninety years after the release of the film by Paul Leni, author not yet properly rediscovered and revalued, features as the "double" of Ivan the Terrible or Jack the Ripper, symbols of our fears. We recommend listening while watching the original film "by Vittore Baroni
And we are also proud to announce that a new great work by FECALOVE is out through Lisca at last!
In Terram Utopicam CDR
Special double fold over with optical effect


"Disgusting electronics, rotten harsh noise, mangled field recordings, total contact microphone abuse. Church of real static. Italian quality." NV
12 Febraury 2014
Thanks to all at [dia•foria -please visit it at once- a really interesting web place where, as they say. you can embrace culture in every possible way.
Indeed (!) they reviewed VipCancro GAMMA and interviewed them too.
Great job -> nice people.
6 December 2013
NEW NOISE interviewed VipCancro asking them about group's hystory, albums, anecdotes, news and so on. Take a look here.
11 October 2013
Just to remind you that people who don't got a record player (buy it soon!) have the lucky chance to get the digital version of GAMMA on bandcamp.
1 October 2013
Surely delighted with exciting words about GAMMA by Julian Cope on his ADDRESS DRUDION.
"Vinyl of the Month must surely go to the epic GAMMA by Italian quartet VipCancro, whose startlingly out there performance pitches the ensemble against such Krautrock epics as German Oak, Yatha Sidra and early Guru Guru. Indeed, for anyone requiring brain tissue abandonment GAMMA will entirely do you justice. Their peculiar line-up of two synthesists, bass player and samples places VipCancro into a pure avant-garde territory, allowing splendid outbursts of canon-like percussion, and cinematic levels of monochrome noise. Released on the excellent Lisca Records label in a superb textured gatefold sleeve, this band understand their metaphor so well that they luxuriate in it, steep themselves for as long as possible then stretch that sucker out as far as they can. Bravo, gentlemen. Many thanks for such a beautiful outburst!"
Julian Cope
24 September 2013
Excellent review about GAMMA by Frans De Waard on VITAL WEEKLY #899
============
VITAL WEEKLY
============
"A nice shiny shiny silver silkscreen cover here for VipCancro's LP (in an edition of 250 copies), with the instruction to play it loud. This Italian improvisation band has a rock like line up, almost, but then without guitars: Filippo Ciavoli Cortelli (percussion, tapes), Alberto Picchi (electronics) and Nicola Quiriconi (voice) and Andrea Borghi on bass. They had previous releases (see Vital Weekly 785 and 872) and noise is their style, but there is more happening than just a wall of noise. Their dirty, lo-fi drones remind me of some of the best bands from New Zealand in this area, such as Sandoz Lab Technicians or Surface Of The Earth, but VipCancro is even more minimal and feedback seems to play a bigger role, from time to time, along with the noted absence of the guitar. Unlike the previous releases, which seemed to be a bit more noise based, this new LP seems rather more subdued and deeper, perhaps more atmospheric. Maybe turning up the volume isn't such a bad idea, not because loud equals better, but because more of the album's beauty is revealed. Of the three releases I heard by VipCancro so far, I think this is the best so far. Carefully constructed pieces of dirty drone music, with a touch of noise thrown in here and there. Lots of subdued scraping of instruments and long-form sustaining drones, going bass deep down. The element of voice is hard to find around here, maybe only in 'Giorni Di Carne', but maybe there are live transformations of the voice, rendering it impossible to hear. Who knows? Excellent stuff throughout here. (FdW)"
17 September 2013
Thank you New Noisers!
"A distanza di tre anni dall'ottimo Tropico, i VipCancro fanno il loro ritorno con un nuovo e piuttosto atteso album. Gamma rappresenta la completa realizzazione di quel processo evolutivo che ha permesso al gruppo di raggiungere uno stile singolare e articolato, dunque anche di ritagliarsi uno spazio tutto suo all'interno del panorama noise/industrial/ambient contemporaneo. La loro è una reinterpretazione dei canoni di genere molto personale, qualcosa che si delinea nei connotati di un rumorismo astratto in cui convivono clangori metallici, feedback, percussioni storte, affondi drone ed elettronica risonante. Sul tutto aleggia poi un'atmosfera grigia e spettrale, le cui torbide sfumature donano ancor più profondità alla composizione e la arricchiscono di dettagli importanti (lo avevano già in qualche modo anticipato nel brano inedito presente nella nostra prima compilation). Il risultato finale è squisito: un disco intenso ed elegante, da gustarsi preferibilmente a volume alto. Vinile limitato a 250 copie, affrettatevi."
6 September 2013
You have been waiting for 3 years guys but think it's worth the wait.
We are very proud to announce that third VIPCANCRO's album is out now at last!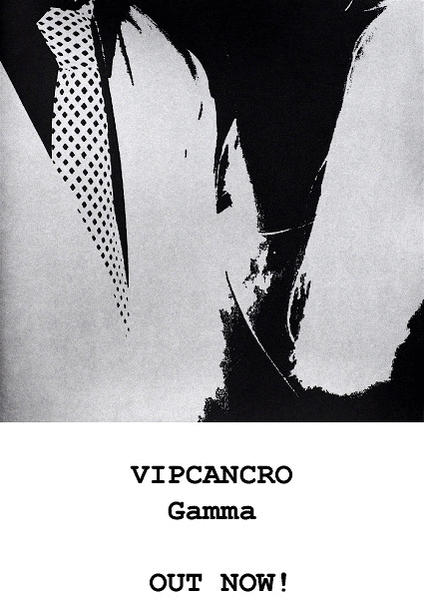 GAMMA is on vinyl record pressed in 250 copies and available in 4 different combos. Special gatefold limited edition. So better get it soon!
A nice review is already available on BLOW UP magazine #184 Settembre 2013
"Al terzo LP dopo Xax e Tropico i lucchesi VipCancro calano il terzo asso. La loro musica fatta di rumorismi modellati, elettronica spastica e post-industrial tenebroso convince ancora una volta per l'abilità e il tatto nel gestire una materia così risaputa. Trattenimento e tensione, marmorea freddezza, scienza applicata. Guernara è splendida. Starebbero bene nella scena dell' Italian Occult Psychedelia anche se suonano più isolazionisti. 250 copie" Stefano Isidoro Bianchi
Thank you!
17 August 2013
Just to let you read a very nice review about VipCancro/Andrea Borghi split cassette on MUHMUR.
Thank you Steve!


"Very excited about this cassette. I do like hearing new projects / new sounds / fresh approaches etc and this has happened with VipCancro. I understand that they have been actively performing and releasing for quite a while, but this weekend I "discovered" them for myself. (Well, with a helping hand from Chris Groves of Cipher Productions). I remember (well) meeting a chap called Mick McDaid in Lincoln about 15/16 years ago and he introduced to me to a whole new sound with projects like Inade, Column One, Origami Galaktika, Manipura and loads more - listening to VipCranco reminds me of meeting Mick.
Chris kindly handed me this cassette when we met in Berlin in June. A clandestine meeting outside "Barbieworld" just off the Alexanderplatz. On returning I took the tape from its packaging and it had Velcro sticky pads on the cassette - if I put it in the cassette player it would have been stuck in there for ever! Now I know that Chris was getting bored of standard cassette package releases, but I thought this was maybe an "anti-cassette", one that would ruin my cassette player. So the cassette remained on the shelf in the gimp room at Hartop Towers. Last week I received a message from Chris saying that I could just peel the sticky-pad off and the tape'll play fine. The cassette comes packaged in a cut and bent old record with the information being the label of the vinyl. (see picture). The cassette is stuck with "industrial" Velcro inside the bent vinyl. Nice idea.
VipCranco are Italian. A quartet that release stuff on their own Lisca Records. I have no idea what VipCranco means - my computer tells me it is Galician, but that is about all. It does sound like Kip Keino who used to be a marathon runner for Kenya ... but I don't think that fact bears any relevance to the cassette. The cassette is a split release with VipCranco bass player Andrea Borghi. VipCranco's sound is of controlled feedback and amp noise. Straight away I am put in mind of Nurse With Wound and their "Soliloquy For Lilith" / "Homotopy For Marie" / "Spiralinsana" albums. Dark, ritual, subterranean (industrial) un-nerving ... classic stuff. Four pieces of magic. "Flutal" has eerie whale song loop and tiny tiny floating voices ..... real clever stuff, and after playing the latest These Feathers Have Plumes 3" Cdr I can hear similarities in sound.
I cannot recommend VipCranco enough and I am now going to hunt for their back catalogue!
As mentioned, Side two is Andrea Borghi, VipCranco member and founder of Lisca Records. Andrea presents more "noisier" pieces, tracks that venture in to HNW. (I think). Microphone feedback, heavy distortion and echo on stun. "Abort/Modifica 3" is slightly more minimalist but still with ampnoise and crackling electricity ... it has an air of abandonment ... and the final piece is far too long - but let's not dwell on side two - it is VipCranco that need listening too.
The tape is available from Cipher Productions www.iheartnoise.com/cipherproductions or google Lisca Records and brush up on your Italian - expect to hear on my radio programme soon."
13 July 2013
VipCancro will be performing at Sonorizzazione Ambientale II in the woods of Treggiaia (PI).

▽ Sonorizzazione ambientale.
♒ Percorso tematico, videoproiezioni e arte nel bosco.
Il concetto stesso di arte ci porta direttamente al tema della mostra. Le emozioni sono alla base del rapporto che si instaura fra l'opera d'arte e lo spettatore, in un magico interscambio.
... ♒ Performance a cura di Giacomo Bianchi
"omaggio a Olivier De Sagazan"
Metamorfosi dell'uomo moderno in un'informe epidermide di materia, la violenza sul corpo e sull'anima genera mostri ed esorcizza; il fango è una reliquia, i gesti una pratica magica di plasmazione dell'individualità (aberrante?); alla fine le azioni che restano sono quelle che distinguono i sensi (darsi degli occhi, aprirsi la bocca, darsi una simmetria). Come i ritratti di cera del '400, i boti fiorentini, reliquie ed effigi di antenati; come gli ex-voto, tracce del sacro e della privazione, offerta e finzione; anche qui, dalla fisicità più immediata e violenta, dal sacrificio del corpo, forse una purificazione.
♒ Sonorizzazioni
Vipcancro (Lisca records)
Rinaldo Marti
Metzengerstein (Sonic Meditations)
Guido Broglio - summerTales (Stunned, Jozik records)
Stefano Bertoli - KHN ' SHS
Edwin Lucchesi
Lapiaga
♒ Mostra fotografica a cura di Chiara Gini
"sull'essere"
Next saturday - July 13th - from 19:00 to 01:00
18 May 2013
GAMC Viareggio / associazione BAU
LA NOTTE DEI MUSEI
LIBERATO MONDO
Tensioni e trasformazioni nel segno di Lorenzo Viani
Galleria d'Arte Moderna e Contemporanea "Lorenzo Viani"
Palazzo delle Muse - Piazza Mazzini - Viareggio
sabato 18 maggio 2013 - ore 18.00-23.00 - ingresso libero
Nell'ambito del progetto europeo La Notte dei Musei e in omaggio all'artista e scrittore Lorenzo Viani (1882-1936), importante rappresentante dell'espressionismo europeo a cui è intitolata la Galleria d'Arte Moderna e Contemporanea di Viareggio, l'associazione culturale BAU coordina un evento multimediale che intende rivisitare la poetica e l'immaginario del grande autore viareggino nei diversi linguaggi contemporanei. Il titolo della manifestazione fa riferimento alle tensioni libertarie presenti nell'opera di Viani, che in onore al poeta del "Liberato Mondo" Percy B. Shelley curò una pubblicazione monografica nel 1922, centenario del ritrovamento del corpo sulla spiaggia di Viareggio. Un corteo di artisti metterà in collegamento luoghi cittadini simbolici della memoria di Viani. Sono previste installazioni temporanee di opere e sculture sul tema, oltre ad una serie di performance, letture poetiche, azioni teatrali e interventi musicali di autori locali e nazionali. L'evento a ingresso libero si inserisce nel quadro dell'iniziativa "Amico Museo", che coinvolge dal 18 maggio al 2 giugno i principali spazi museali viareggini.
PROGRAMMA DELLA SERATA
Ore 21.00-22.30
Intervengono: Vittore Baroni - Luca Brocchini - introduzioni | Antonino Bove - evocazione vianesca, performance oscura | Maicol Borghetti - Maurizio Marco Tozzi - Autori Vari - Liberato Mondo (un tributo), video | Adolfina De Stefani e Antonello Mantovani (gruppo OPEN) - Opera in nero, performance | Filippo Ciavoli Cortelli - David Paolinetti - Alberto Picchi - Nicola Quiriconi - I Baviani, video-performance elettroacustica | I Gioielli Rubati di Fernanda - Seggiole, azione teatrale | Teatro Satanico (Devis Granziera, Roberto "Kalamun" Pasini, Mauro Martinuz) - video-azione sonora | Negli intervalli: letture da poesie scelte di Lorenzo Viani a cura di Paola Lazzari.
Info:
GAMC Viareggio - tel. 0584 581118
www.gamc.it - gamc@comune.viareggio.lu.it
BAU Associazione Culturale
www.bauprogetto.net - info@bauprogetto.net
6 April 2013
VipCancro will be performing at OTO CALLING INDUSTRIA Festival, CSOA RDA MAYDAY LA SPEZIA.
° KVAS
° FOCCHIA ( Splinter Vs Stalin solo project )
° NUOVA LEBBRA
° INFISSI
° SUPERVIXENS
° VIPCANCRO
From 9:30 pm.
6 March 2013
Third in the series of promised pleasent news we proudly introduce you a very special release by VipCancro & Andrea Borghi on Cipher Productions, Australian label run by Chris Groves.
Special limited edition cassette in a very nice artwork, see with your own eyes!
Notes from the label:
"Split tape of VipCancro's organic ensemble noiseisambient and Andrea Borghi's more harrowing, angular noise constructs.
VipCancro have an almost calmative effect, every tone mannered as their tightly-woven layers of sound slowly loosen.
Andrea (one quarter of VipCancro) paces more forcefully, but his constructs ultimately prove more brittle, bareing glimpses of well-worn source material between cobbled processing.
This is another in my line of specially packaged cassettes, this time the tape is housed in a cut, folded and stickered vinyl records, all held in place with velcro.
Limited to 60 copies."
A review by FRANS DE WAARD - VITAL WEEKLY is already available.
"Unlike the 80s, these cassette packaging are rather dull. J-card in a plastic
box is what rules these days and not bathing sponges, pyramids and soup cans.
This split tape is the exception: piece of bend and cut down vinyl, with a new
label attached to it which has the credits. It is a split release but VipCancro
(as the spelling dictates) is a band with Andrea Borghi being part of it. They
had a CD on Lisca Records before (see Vital Weekly 785). Their instruments are
laptop, electronics, percussion, tapes, voice and metals and I should think
that all of this is played improvising. It's not heavy on the drum sounds; the
kit is just another player in the field of creating atmospheric sounds. Lots of
scraping, textured music with nice rough edges around it. On the other side we
find Andrea Borghi who, on his own, produces a hell of lot more noise. It
sounds like a bunch of contact microphones attached to resonating surfaces,
amplified through guitar amplifiers and recorded on a dictaphone. Quite rough,
leaning towards the world of feedback, but it doesn't get overtly loud here. A
pleasant kind of noise, I think. Music from an action, rather than finely
composed tunes that got their shape over a bunch of weeks/months. Very nice.
Maybe upon close(r) inspection I may have switched the sides. Damn. Cassettes. You can never be sure. (FdW)
You can get a copy asking us or directly writing to Chris.
Very limited copies, you know!
13 February 2013
As promised we come back with special news for you.
This time we introduce you VETRALE, an interesting work by our Andrea Borghi released by the russian label OBS*.
Andrea keeps on his personal research on material sounds made with modified turntable, elaborated glass discs, computer, effects.
Notes from the label where you can also listen to a fragment and read a review by FRANS DE WAARD - VITAL WEEKLY.
ANDREA BORGHI Vetrale
obs * instrument|(л65) 044 cdr 38 min.
limited to 65 handnumberedcopies, 4 monochromecards.
"VETRALE investigates the connection betweenspace and matterthroughgenerated sound as an item for theirintegration/interaction. Technology and electronicisused to focus on frequencyfields and sound detailsotherwiseinaudible. The sound becomestactil, thematteraudible. Ideal follow up as a personal research on materialsoundsbegins with Omaggio a Lucio Fontana (2010) and continues with Vetrale (2011) as a performingactthatexpresses an idea of Sonorous Spatialism."
Andrea Borghi: modifiedturntable, elaboratedglassdiscs, computer, effects.
22 January 2013
Happy new year friends!
Sorry for this lack of communication but we have been busy to plan some rich news for this 2013.
So let's start with the first one, an excellent compilation titled THE NEW NOISE VOL.1 and VOL2. is just out now and you can get here.
The unreleased track by VIPCANCRO "Against Skin" is there among other great tracks by LA PIRAMIDE DI SANGUE, ANDREA MARUTTI & FAUSTO BALBO, RETINA.IT, JOOKLO DUO & BILL NACE and many others.
Thank you Giacomo and all at NEW NOISE.
Very soon with further big news, stay tuned!